Virginia Waters event – a great day out for all.
Between 11am and 2pm TODAY we are supporting Surrey Fire & Rescue Service @SurreyFRS at Virginia Waters at their 'Be Water Aware' event. Come and learn life-saving skills and meet some of the team. Its going to be a great day! pic.twitter.com/lDzBxKZZo0

— Surrey Search & Rescue (SurreySAR) (@SurreySAR) August 22, 2021
Open Water Festival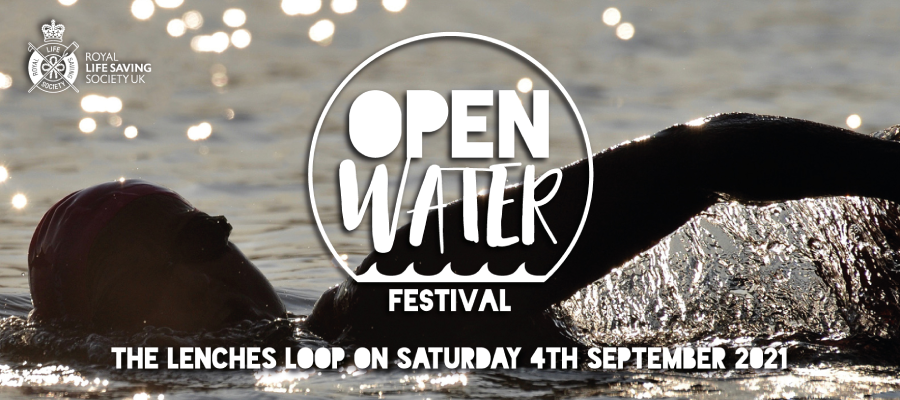 We`re delighted to announce that The RLSS UK Open Water Festival will be taking place this year at The Lenches Lake, Evesham, Worcestershire on Saturday 4 September 2021 at this stunning 40 acre Worcestershire site –  the perfect place to get away from it all.  Please help us by sharing this news as widely as possible.
Our Open Water event offers a great safe day out for all the family, swimmers and spectators alike, with a range of swimming distances and attractions to keep the spectators entertained between races. The day will consist of a variety of swims suitable for all ages and abilities, both competitive and non-competitive so, whether you are 10 or 110, a beginner or an experienced international, visitors will be guaranteed a warm welcome at The RLSS UK Open Water Festival.
The event will consist of six swims:
1600 Metre Swim   *16yrs+
800 Metre Swim   *16yrs+
400 Metre Swim   *16yrs+
400 Metre Leisure Loop   *16yrs+ (non-competitive)
200 Metre Swim    (participants need to be 10-years-old or above)
Rookie Splash    *under 10s (parental/legal guardian supervision in water)
For more information, please click here
RLSS GUIDANCE FOR OPERATING A LIFESAVING CLUB DURING COVID-19 (UPDATED)
Additional statement relating to lifesaving activity and clubs – 21 July 2021
On 17 July, the charity released a statement to continue to protect lifesavers and lifeguards, especially
as transmission rates of COVID-19 remain high.
However, we have come to the decision that some of our adjustments for water-based lifesaving
activity, in the current climate can be relaxed. This guidance sets out a revised adjustment.
Clubs and instructors are still reminded to communicate with their operator and to check and amend
their risk assessment that is bespoke to their individual activities. We also remind clubs and instructors
to consult with members, candidates, and their carers/guardians about any changes to your
operations.
Organisational Position Statement – 17 July 2021
Unfortunately, COVID-19 is still prevalent within the UK and Ireland, with cases and those affected by
the virus increasing daily. Therefore, any revisions to our practices must be thoroughly conducted and
carefully considered to ensure the safety of everyone.
This past week, three UK governments have announced some decisions or intentions to lift
restrictions, mainly concerning social distancing and the wearing of face coverings. They also warned
that extreme caution is absolutely vital and stressed that we must all take responsibility for tackling
the rapidly spreading virus, including an expectation on companies to continue imposing anti-COVID19 measures.
RLSS UK has worked closely with partners, experts, and advisors to consider our guidance and any
changes that potentially could be made, given the imminent lifting of most legal pandemic restrictions
in England.
All our training and assessment contains practical elements (all essential to developing necessary
skills) where individuals are required to be in extremely close proximity, sometimes just inches from
other's faces; this presents a significant and concerning risk in the current climate.
Until such a time that the spread of COVID-19 is more controlled, we will ask our Trainer Assessors,
Instructors, Tutors, Clubs, Training Providers, and Centres; to continue to follow the RLSS UK guidance
for training and assessing during COVID-19, available here.
Please be reassured that this decision has not come lightly, and everyone's safety has been
paramount.
Where current guidance refers to social distancing, you will need to follow the measurement for social
distancing provided by your government. Where your government dictates no distance, we strongly
recommend you adopt 1 metre as a minimum.
We will continue to review this statement regularly, along with government information, COVID-19
transmission rates, and ongoing vaccination programme success. We hope in time to ease our
guidance in a controlled and measured way.
We thank you for your understanding and for continuing to help protect our nations.
What do I need to do now?
To comply with government guidance clubs/instructors should review their risk assessment and talk to your owner and operator to ensure that you are complying with their own operating procedures, especially considering the movement of members/candidates in and out of sessions.
It is ultimately the decision of the facility operator to communicate when lifesaving/club activity can return so please be mindful that activity may not be able to restart immediately as restrictions ease.
RLSS UK Club and Lifesaving Guidance
This RLSS UK Guidance for Operating a Lifesaving Club During COVID-19 is to provide support to Lifesaving Clubs and Lifesaving Instructors, whilst they continue their vital work.
The original document was launched on 10 July 2020 following a period of consultation and a hosted webinar on 02 July, click here to watch the webinar and read the Q&As linked to this document.
The guidance details adjustments that should be made to how the club is run, as well as a sample a risk assessment and details on cleaning equipment and using PPE. The guidance is not exhaustive and further guidance may be sort from other organisations.
Wantage lifesavers are held their AGM via zoom at 0900 on 20th December.
If anyone has questions or requests the the branch may be able to help with at this time, please email admin@thamesvalleylifesavers.org